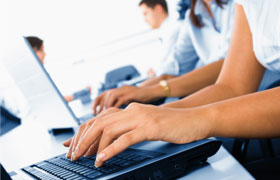 The email marketing business like most web related industries is littered with buzz terms and jargon.
If you are new to email marketing here are a few of the terms that you may come across.
Abuse email address
Ideally you should have an email address beginning abuse@ i.e. abuse@yourcompany.com so that email recipients can report abuse.
Bounce rate
The number of emails returned to sender expressed as a percentage
Confirmed Opt-in:
Also known as "Double Opt-in" or "Verified Opt-in". The Recipient has verifiably confirmed permission for the address to be included on the specific mailing list, by confirming (responding to) the list subscription request verification. This is the Best Practice for all Internet mailing lists, it ensures users are properly subscribed from a working address and with the address owner's consent.
Inline styles
Styles are used to express the way a block of text, table, graphic or area of a web page will appear. Typically styles are stored in style sheets called cascading style sheets or CSS. On marketing emails styles need to be expresses inline in order to work on web clients like Gmail or MSN. This means that the styles are actually incorporated into the HTML mark up rather than being held in a separate style sheet.

Mailserver / Mail host
A mailserver is the dedicated computer and software set-up that allows you to send e-mails. At work, your company will probably have its own mailserver; if you are accessing the Internet from home, then your ISP will have a mailserver. It will make sure your e-mails are sent, received and sorted correctly and will send back any undeliverable mail.
MX records
A mail exchanger record used to specify a server responsible for accepting email for a given domain.
Opt in lists
email lists in which the members have selected to recieve the emails being sent. Ideally all lists should be opt in rather than opt out.
Reverse lookup
Trying to identify a sender from his/her email address - this is a classic way of detecting and preventing SPAM. If an email originates from the domain listed in the header then it is less likely to be SPAM.
Unsubscribe
If a customer doesn't want to receive e-mail from you any more, you will do more harm than good to your reputation by continuing to send them. Any good e-mail list software will have easy unsubscribe options built right in. This enables the recipient to automatically control what they are subscribed to.